COVID is just the latest (though by far the biggest) in a series of wake-up calls for the big insurers. Will they finally deliver on their digital modernisation agenda?
---
The Need for Rapid Change
For decades Insurance was the industry that digitisation left behind.
While the world around them transformed, consumers embraced everything from Alexa to Zoom, and new billion dollar digital businesses emerged, insurers remained stuck in the 90's, permanently on the bottom rung of digitisation, and with the lowest NPS scores of almost any industry.
In the past five years however, new threats emerged, challenging the large insurers comfortable status quo and becoming impossible to ignore. New, nimble players have sprung up from China and elsewhere, innovating on newer technology stacks and gaining rapid traction. And there are increasing signs that the tech giants will also enter the market. And now the biggest accelerator/disruptor of all, the sudden emergence of a pandemic.
In 2020, the world changed, permanently. Covid and the long term implications of social distancing, has forced insurers to embrace new thinking, across sales, claims management, and the provision of health coverage.
Yet with the pressing need for change, also comes the natural reaction of the insurers towards conservatism. As interest rates hit rock bottom, limiting investor returns, and multi-line insurers prepare for significant additional costs from business continuity claims, the inclination to cut costs, and to hunker down until the storm passes becomes appealing.
In this article, we argue against that approach, and instead put the case for continued, rapid investment and progress against longer terms strategic goals
In doing so, we make the case for external partnering, as the primary path to faster fundamental digitisation of the Health Insurance business, far beyond mere digital marketing channels, to core business digitisation of on-boarding, product, pricing and claims.
Pre-Covid: The Insurers Slow March to Digitisation
Many incumbent insurers spent the 2010's attempting to innovate and drive digital progress internally, with slow progress.
Traditional insurers began gearing up for the change, hiring a new army of digital talent, Chief Digital Officers, Designers and Developers. But while the intent was there, organisational complexity and monolithic technology stacks, conspired to hamper progress.
An alternative approach was the rush to invest in glitzy Innovation Labs, trying to emulate start-ups, with a digitally orientated mandate. These too have struggled, largely delivering innovation 'theatre', becoming political footballs, and failing to gain traction in the core business. Many have closed or been re-tooled. Aviva last year announced its digital lab would be re-focused on projects that deliver clear ROI.
There have been pockets of progress. Vitality, Manulife Move, and Prudential's Pulse began to signal a willingness to experiment in the Wellness space, though many have yet to evolve from incentivised marketing vehicles, to meaningful contributors to improving health.
Digital channels to market have had a dust off, and the sales channel is becoming digitally equipped. For most customers however, the overall feel of dealing with an insurer in 2020, is very much like it was back in 1990.
According to The Economist "No insurer ranks amongst the world's top 1000 public companies by amount invested in R&D…many insurers are working on the same narrow set of ideas. Some of the noisiest, such as blockchain, are the least productive"
Fast forward to 2020, and Incumbents, driven by three mega wake-up calls, outlined below, are finally forcing incumbents to embrace meaningful change. The challenge now is to take this opportunity for faster progress, and resist the financial pressure to hunker down, and defer costs & innovation until the good times return.
---
Wake-up Call #1: Big Tech Moves into Health
The world's leading tech companies, with almost unlimited resources and data driven insights into consumer needs and behaviour, see an opportunity to transform the health experience, by applying their customer centric, iterative digital approach, to solve customer problems.
Thomas Buberl, chief executive of France's AXA, predicted the industry's 'competitors of tomorrow' will be data-driven tech companies such as 'Facebook, Google, or Apple' rather than upstart insurers
Consumer willingness to consider buying insurance from an Amazon or an Apple, is growing fast, driven in part by brand awareness and trust. In 2016. 17% of US consumers would consider buying an insurance product from a big tech company. By 2020 that had grown to 36% (CapGemini 2020)
Amazon
Amazon Care is currently being trialled amongst its employees around Seattle, and gives strong hints of where the company is heading. It combines telemedicine (via chat and video), follow-up consultations, and prescription delivery to the door. In doing so, it leverages everything Amazon is good at – customer focused, easy to use, a trusted brand, and expertise in logistics and delivery.
Amazon's acquisition of PillPack, an on-line pharmacy, offering personalised medication packaging, further underlines its commitment to deliver on its brand promise of "Healthcare built around you". In August 2020, Amazon announced that it would trial an on-line pharmacy in Bangalore, India, further signalling its intent to continue to develop a Health line of business.
Back in the US, perhaps more worrying for the incumbent insurers, was the public announcement at the launch of their partnership with Berkshire Hathaway, that Amazon and its partners wanted to "deliver an experience that was free from profit-making incentives and constraints," which are of course at the heart of the insurers' commercial imperative.
Apple
In 2019, on CNBC, Apple CEO Tim Cook, answered a rhetorical question. "If you zoom out into the future, and you look back, and you ask the question, 'What was Apple's greatest contribution to mankind,' it will be about health".
Apple, with its Smartwatch, and accompanying health app, is already active in Health wellness, though whether it plans to extend this to health insurance is unclear.
Apple Watch continues to extend its feature set, series 4 brought the ECG capability, and rumours are that the next release may bring the ability for blood oxygen levels, which would potentially enable the watch to be used as a pre-indicator for Covid.
Apple's CareKit and ResearchKit have enabled third parties' access to anonymised customer data, enhancing studies on cardio health and chronic disease.
Apple has been careful to protect user privacy, resisting government pressure for example, to enable location data to be surfaced centrally to help track Covid. That trust, and keeping customers personal data safe, will be key to any company wanting to extend into consumer health.
Wake-up Call #2: A New Breed of Insurance Competition Emerges
In July 2020, Lemonade made its debut on the NYSE, with a market cap of USD $4bn. While Lemonade is more focused on P&C lines, there are plenty of similar, nimble, well-funded ventures offering health insurance.
The winners in this set are those that have created distinctive digital capabilities and have benefited from a clean slate (with no tech debt) and a vibrant start-up talent pool. Most have started with very narrow customer segments: those displeased with larger incumbents and eager for tailored digital solutions.
In the US, Oscar Health challenged pre-conceived notions of what an insurer looks and operates like. Its focused customer orientated approach, underpinned with new technology, saw rapid traction and a $5bn valuation
In Asia, an even bigger wake-up call emerged from Chinese payers. New mega players emerged (Ping An, Zhong An), whose nimbleness, new technology, coupled with an innovative mindset and determination to do things differently, drove scale at an astonishing speed, something noticed by AIA who have recently hired Lee Yuan Siong from Ping An, as its new CEO. Elsewhere in SE Asia, we are seeing interesting new digital first plays emerging. Sing Life, FWD, Toffee Insurance in India, have all re-thought how to deliver insurance, doing away with manual processes, leveraging new technology, all at a lower cost base.
Wake-up Call #3: COVID 19 and the Imperative for Change
Without doubt the biggest single imperative and accelerator of change has been the outbreak of Covid 19.
Suddenly, the large incumbents' legacy operating model was brought into uncomfortable focus. With the traditional sales channel suddenly frozen, and manual claims departments often located in low cost markets, frequently in lock-down, the first response was to ensure business continuity, re-architecting claims processes, and changing business policies to enable sales agents to conduct sales remotely.
The second, and more underlying change, has been the realisation that digitisation of the core business (product and pricing, claims, customer on-boarding) could no longer be postponed. Consumer behaviour has changed, and probably permanently. E-commerce, home working and home delivery have exploded, and further cemented the shift to on-line, even for services that were previously resistant. The biggest change in Health Tech has been the uptake in telemedicine services, which have seen an 800% increase in demand this year
"We've seen two years of digital transformation in the space of two months" Satya Nadella, Microsoft
The imperative for the insurers is now to seize on this pivotal moment, build on the uptake of services such as telehealth, and deliver on further building out a more cost efficient and useful digital experience for their customers.
---
What Do We See the Biggest Near Term Imperatives for Health Insurance, Post COVID?
So far in 2020, we at Galen Growth have observed a marked up-tick in interest (if not yet actual execution) in several areas. Here are our top 6 picks of where we believe Insurers should focus on delivering, with the help of external health technology companies to execute faster –
Extend Wellness platforms to become genuine contributors to better customer health, discounts for completing steps is a nice marketing angle, and your sales agents love it.  But in 2020, its time to step up, and start genuinely using these to drive a broader set of behavioural change across diet, activity, mental health and sleep, and look to integrate into broader preventive health programs
Deliver Digital claims for Health, not only save costs (by up to 20% according to a recent McKinsey report) but also deliver marked improvements in customer experience.  Yes, it's fiendishly difficult, but look to external partners to help drive change by getting visibility of what is happening in the claims space and taking SMART and real time action
Take Mental Health and Employee Stress Seriously.  Not only is it the third biggest claims category in some markets (notably Australia, where it's 11% of all disability claims) but it also drives higher levels of work absenteeism (vs all other claims), and lost productivity for your corporate insurance clients
Digital Biomarkers – collect it, analyse it and apply it.  Extend wellness platform data collection. Understand different risk profiles amongst customer cohorts, and start to develop personalised pricing
Teleconsulting is a Human Need in every market. Consumers want it, regulators have largely enabled it.  Is there any reason not to roll this out in every one of your operating markets?
Remote Monitoring and Disease Prevention.  Elder care, remote diabetes monitoring, home testing.  This area has seen huge technological advances, only a fraction of which is being embraced by insurers.  Couple remote monitoring with new protection products to extend coverage into what were previously higher risk groups.
Insurers Should Continue to Invest and Deliver Quicker in the Short Term, to Realise Longer Term Returns on Investment
Undoubtedly there is financial pressure on insurers. Lloyds of London for instance estimated in May 2020, that the insurance industry will suffer about $203 billion in losses from the pandemic this year, with about $107 billion coming from claims and the rest from the hit to insurers' investment portfolios.
With an uncertain outlook, there is always a response not to invest, and while Covid is serious, there have been a host of previous world events that have made investors nervous, and often these have had a short term market impact.
As the following diagram (source JP Morgan) shows the S&P 500 has always recovered to its previous peak. So while the need for financial prudence should be there, it should not necessarily be allowed to deter long term outlook and continued traction against strategic goals.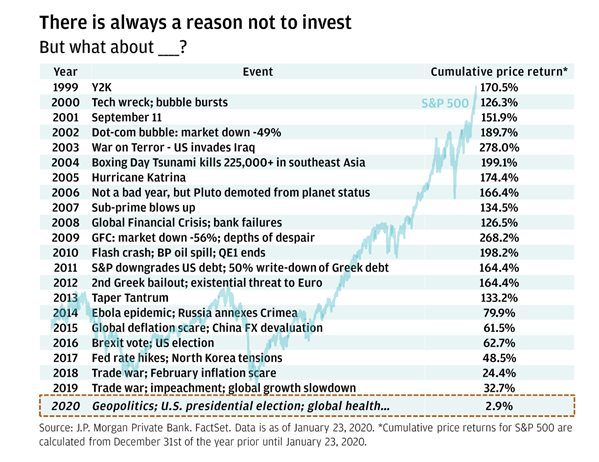 Partner, and Drive Faster Against Your Goals
At Galen Growth, we believe there are at least three powerful reasons to supplement internal build and focus, to drive faster against modernisation
Partner for Acceleration
Working from scratch, internally, with the overhead of organisational structures, hiring, procurement, problem definition, and development is lengthy. The longer the project, and the more at risk it is from cost cutting or re-prioritisation.
Surveying the external market however, identifies ventures that have already solved problems. However, with over 6500 ventures to choose from, it's impossible for clients to survey the eco-system fully with their own resources. At Galen Growth, with our unique specialist focus on HealthTech, we offer guidance and data to help pinpoint start-ups who already have proven partnerships and traction in the market, substantially reducing the risk of failure.
Partner to Leverage the Specialisation of Health Ventures and Increase Chance of Success
Large companies cannot be good at everything. Success in core insurer skills (risk, coverage and investment returns) does not translate to success in software development to solve specific problems. Ventures on the other hand are typically highly segment and problem focused. Galen Growth assigns an maturity score to every single one of our listed ventures, making it far easier to shortlist ventures who have had successful in market traction.
Survey the Entire Ecosystem to Pinpoint Your Best Possible Partner
According to Galen Growth's Health Tech Alpha, there are over 6500 Health Tech ventures worldwide. Relying on Google or personal networks will never enable organisations to truly survey the entire venture base. Using HealthTech Alpha, with its advanced filtering and rating options, allows your organisation to have the confidence to find the right choice of fit, amongst thousands of options for your particular mission.
---
Take The Next Step
For advice on how your organisation can benefit from partnerships in HealthTech, contact us now for a free consultation.